See on Scoop.it – healthcare technology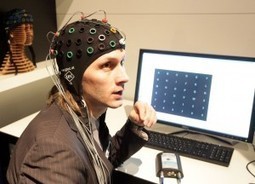 As hard as it is to believe, what many might think is the last bastion of total privacy, namely, the human mind, is quickly becoming just as vulnerable as the rest of our lives with the invention of mind-reading helmets and other ways to "hack" the mind.
Now security researchers from the University of California, Berkeley, the University of Oxford and the University of Geneva, have created a custom program to interface with brain-computer interface (BCI) devices and steal personal information from unsuspecting victims.
The researchers targeted consumer-grade BCI devices due to the fact that they are quickly gaining popularity in a wide variety of applications including hands-free computer interfacing, video games and biometric feedback programs.
Furthermore, there are now application marketplaces – similar to the ones popularized by Apple and the Android platform – which rely on an API to collect data from the BCI device.
Unfortunately with all new technology comes new risks and until now, "The security risks involved in using consumer-grade BCI devices have never been studied and the impact of malicious software with access to the device is unexplored," according to a press release.
See on theintelhub.com