See on Scoop.it – healthcare technology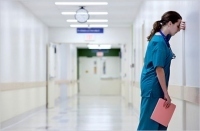 When CEOs describe what they want most in people they hire, they consistently talk about honesty and integrity. Among the leadership competencies that we measure, honesty and integrity have consistently received high scores, putting them at the first or second position in comparison to everything else. In general, most leaders are perceived as doing this reasonably well.
Bosses generally rate their subordinate managers even more highly on honesty and integrity than do the peers and direct reports of those same managers, suggesting that as leaders look at the level below them in the hierarchy, they are comfortable with what they see happening. I recently had an experience that gave me a whole new perspective on this important leadership attribute. It caused me to conclude that we could be doing a great deal better.
My son was diagnosed with stomach cancer about 15 months ago. He was a practicing physician, specializing in pulmonary diseases. The particular cancer was not common and the optimum treatment was unclear to his physicians. He went through extensive chemotherapy, radiation therapy, surgery to remove half of his stomach, and then a bone marrow transplant. At the conclusion of all these treatments they did a CAT scan that found no trace of cancer cells. So along with his physicians, his family, colleagues and friends were all hoping for a complete cure of this dreaded disease.
See on zengerfolkman.wordpress.com