See on Scoop.it – healthcare technology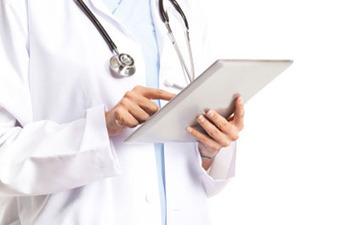 Apple's iPad is increasingly finding use in health and medicine, with applications ranging from giving individuals instant access to a wealth of reference, educational and personal health information, to helping hospitals streamline their operations, reduce labor costs, improve efficiency, and helping health professionals with analysis and diagnosis.
However, recent reports suggest the touch tablet devices could be doing more than was originally intended, driven by a pressure for change that is is coming from users, as health care providers seize the new tool with renewed passion, and demand more from the technologists.
iPads in Hospitals
Some hospitals have installed kiosks where patients, visitors and medical staff use the securely mounted touchscreen tablet to look up information.
For example, at Singapore's Changi General Hospital, people use iPad kiosks to find their way around the facility.
Staff at New York Methodist Hospital uses their kiosk-mounted iPads as diagnostic aids in electrocardiogram and other systems.
At Massachusetts General Hospital in Boston, clinicians use iPads to access up-to-date clinical information before and during patient consultations.
See on www.medicalnewstoday.com