See on Scoop.it – healthcare technology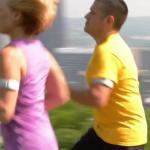 One of the top trends in digital health is wearable body sensors. The Nike+ sensor shoe is the Usain Bolt of this market, with its flashy image and impressive results. Startup Fitbit has also gained a lot of traction, with its small clip-on device. But still in the race for gold is a dot-com veteran, BodyMedia. It's been producing "senseware" since 1999! A recent $12 million funding round suggests that BodyMedia has plenty of legs left.
BodyMedia's core product is an armband that has four sensors to track movement, temperature, heat and "skin response." The data is then processed and analyzed by an online "Activity Manager" and a variety of specialist mobile apps, such as a food log. The whole set-up is called BodyMedia FIT and the company terms it an "on-body monitoring system." Putting it simply though, BodyMedia helps users count calories and lose weight.
See on www.readwriteweb.com