See on Scoop.it – healthcare technology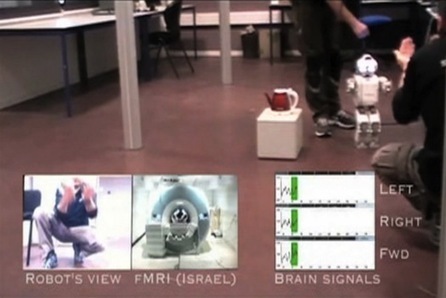 Researchers from the Advanced Virtuality Lab at the Interdisciplinary Center in Herzliya, Israel, just got one step step closer to creating an actual Avatar-like computer interface. As in the Hollywood movie by James Cameron, this would mean that a human could control an 'avatar'—in this case a robot not a cloned alien—remotely, and by thought alone.
Recently Ori Cohen and Doron Friedman enabled a human subject located in Israel to effectively direct the movements of a robot located nearly 3000km (1800mi) away at the Bèziers Technology Institute in France.This experiment was associated with the Virtual Embodiment and Robotic Re-Embodiment (VERE) project whose stated aim is:
dissolving the boundary between the human body and surrogate representations in immersive virtual reality and physical reality. Dissolving the boundary means that people have the illusion that their surrogate representation is their own body, and act and have thoughts that correspond to this.
Currently there are a handful of consumer products available that allow users to control electronics using only their thoughts. Most rely on technology related to the electroencephalogram (EEG), which measures electrical fluctuations from brain activity across the scalp.
Source: : http://www.psfk.com/2012/07/mind-controlled-robot.html#ixzz216BYXnpy
See on www.psfk.com