See on Scoop.it – healthcare technology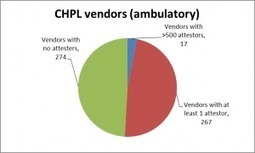 The number of vendors of Electronic Health Records products seems unsustainable. Stimulated by federal Meaningful Use incentives, plus the irresistible tide of pressures and encouragement from all sides (specialty societies, peers, licensing boards, insurance payers), the uptake of EHRs has been steadily increasing.
As a result, large established EHR companies, some of whom have been around for 15 years or more, are experiencing competition from a wave of smaller start-ups – some successful, others not. Two general categories of EHRs have emerged, rather distinctly: EHRs for ambulatory use, and EHRs for hospital use. These really do represent two different markets.
See on www.govhealthit.com