See on Scoop.it – healthcare technology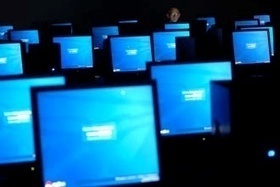 The mainstay of physician computing has a slew of newer, portable rivals — laptops, tablet computers and smartphones. But the desktop remains the go-to computing tool for many doctors.
A survey of 1,190 physicians published in June found that 75% of doctors use their desktops for practice management tasks. By comparison, 25% used a laptop for such work, 10% an iPad or another tablet and 6% a smartphone. Doctors could choose more than one answer.
Desktops also were the most common tool used for clinical tasks (59% of respondents), electronic prescribing (52%) and accessing an EHR (44%).
The online and fax survey was conducted in January by the health care directory named little blue book and its parent company, Sharecare, an Atlanta-based online community where patients post health-related questions for a panel of experts.
Following desktops, the next most popular tool for clinical tasks was the laptop, used by 35% of surveyed doctors.
See on www.ama-assn.org