See on Scoop.it – healthcare technology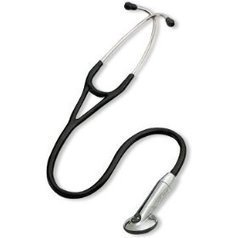 Last month, I reluctantly entered the market for a new stethoscope. (My old one broke. Don't ask.)
For doctors, choosing a stethoscope is not a decision made lightly: it requires laying out a significant amount of cash for a device you might carry in your pocket for years. So, after researching stethoscopes online for a few days, I surprised myself by buying an electronic model — the 3M Littmann Electronic Stethoscope Model 3000 — and I couldn't be happier.
"Why an electronic stethoscope?" is a reasonable question, but a better one might be: "What prevented you from buying one before?" Here are the most common objections:
Electronic stethoscopes are expensive.
Unless you have a hearing problem, you should be able to hear just fine without one.
Physicians have gone without electronic stethoscopes for almost two hundred years — why switch now?
source: http://www.kidneynotes.com/2012/07/your-next-stethoscope-should-be.html
See on www.kidneynotes.com