See on Scoop.it – healthcare technology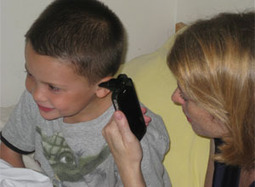 Cameras in smartphones will inevitably replace nearly all portable cameras and camcorders, but could they also make basic medical instruments obsolete? A startup called CellScope plans to do just that by turning smartphones into digital first aid kits. To kickoff its campaign, the company is developing an iPhone attachment that turns the smartphone into an otoscope, providing a magnified view of the middle ear.
Why does the company want to make it easy for doctor's and parents to peer inside their kids' heads? Because ear infections are the number 1 reason children are taken to see pediatricians and often why they end up in the emergency room. According to the Journal of the American Academy of Pediatrics, 93 percent of children before the age of 7 will have an ear infection and 6-8 percent will suffer with frequent infections, defined as 3 or more in a 12-month period. In the US alone, 30 million pediatrician visits each year are attributed to ear infections at a cost in the billions of dollars.
See on singularityhub.com