See on Scoop.it – healthcare technology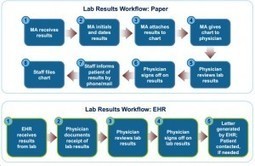 As any healthcare provider can attest to, figuring out the best ways to map out workflow during EHR implementation can take a lot of the anxiety out of the process. So having a plan to execute workflow activity during adoption, as reviewed here by HITEC LA, can help ensure you're in for a smooth EHR transition.
Analyze current workflow: Document the practice's existing paper workflows in all areas of patient care. This includes everything from front desk admissions to prescription management.
Solicit clinician and staff input regarding roles in current paper workflows: Involve everyone who handles paperwork in the analysis and redesign.
Review and finalize documentation of current workflow: Ensure that the final diagram incorporates the entire "paper trail."
Identify waste and opportunities; then redesign workflow: Recognizing the steps that should be changed to improve office functionality and know your EHR needs. During the workflow redesign, you assign pre-work before meetings or even homework, where personnel may be required to collect additional inputs or data collection following the meeting. This will help prepare them for the transition.
Identify and implement the EHR system and new workflow: Enlist the necessary support and work with the right EHR vendor to implement a system that meets the practice's needs; ensure proper EHR implementation through staff training on the new workflow. This may not be easy for physicians or nurses who barely ever use computers. Ensure their comfort during the workflow during the transition is a big key to the process. During training, using screen shots and/or live activity will help physicians and nurses get a good feel for EHR as it pertains to their everyday work.
Analyze new EHR workflow and refine as needed: Continue to monitor the EHR-driven workflow and adjust it to optimize efficiencies in your practice. If staff continues to struggle, bring back training staff for a refresher.
See on ehrintelligence.com