See on Scoop.it – healthcare technology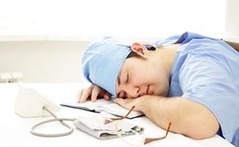 It had been a while since my last visit to my primary care physician. I had actually missed my last two appointments for annual checkup. As soon as I entered the practice, I noticed some subtle changes.
The reception area for one seemed much more organized, the place was quieter with the usual bustle amiss. The difference was so apparent that the staff almost seemed sluggish. I couldn't recall ever witnessing them walking casually down the corridor. I hastily sped up to the reception hoping to find a familiar face to ease my nervousness.
She greeted me as usual and told me that I had missed my last two appointments looking at the computer screen while pointing and shaking her finger at me, to which I apologized and let out a nervous chuckle. 'That's ok! We already scanned your chart in. There is just one more patient before you so please take a seat.', she followed. I knew they had implemented an EMR. I was slightly excited about getting some insights, perhaps the overall experience and what not.
See on medcitynews.com