See on Scoop.it – healthcare technology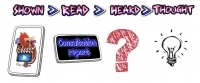 Joe Cantlupe for HealthLeaders Media asks "Can a Doctor's Smartphone App Thwart Lawsuits?" and shares the founding story of Dr Michael Nusbaum, Chief of Bariatric Surgery at Morristown Medical Center, who has developed the MedXCom iPhone app in a bid to resolve the age old "who-said-what" problems that surround physician/patient discussions.
The story begins several years ago when Dr Nusbaum's practice was involved in litigation from the family of a patient who claimed the practice was partially responsible for an untimely death due to a pulmonary embolism because they hadn't been told how important it was to go to the emergency room. The article reports how the experience created a lot of tension in the practice which eventually led to the break up of the partners.
Being the target of this litigation pushed Dr Nusbaum to focus more on the practice of defensive medicine in a bid to prevent this happening again and moving forward he felt he had only two options 1) keep practicing defensive medicine (here's a good overview of the challenges this approach can present by Dr Roy Benaroch) 2) Develop the MedXCom smartphone app to legally record conversations with patients so that he didn't have to practice defensive medicine.
See on mhealthinsight.com