See on Scoop.it – healthcare technology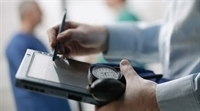 Of the many changes that have occurred in our health-care system, one that particularly affects most providers is the advent of electronic health records (EHRs). Although hospitals have been charting electronically for years, medical offices have not been as quick to adopt this initiative. However, due to changes in the business of health care, medical offices are now seeking out acceptable and affordable EHR programs and receiving incentives to implement them.
The idea behind EHRs is easy accessibility for health-care providers and patients alike. Having medical information at one's fingertips is a great asset for continuity of care.
Practitioners can access old records once those documents have been scanned into the computer system, and newly acquired health information is placed directly into an electronic chart. Legible handwriting is no longer a concern with typed data. Laboratory and diagnostic test results may be filed directly to the patient's chart with no loss of paperwork. Health history, allergies and lifestyle information now available, all at a click of a key. This system allows for greater use of the heath-care provider's time.
See on www.clinicaladvisor.com