See on Scoop.it – healthcare technology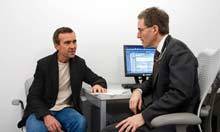 A "patient experience industry" is emerging, but I worry whether it is doing the right things. For instance, are enough patients prepared to talk about their experiences honestly? Are conventional surveys fit for purpose? Are new technologies a help or a hindrance? How many hospitals take patient feedback seriously? Most important, how do you translate patient feedback into actions, not just endless words in committee meetings? In a word, do hospitals change their ways of doing things as a result of what patients say?
The live discussion on what matters to patients on 12 June gave some answers to my questions. Jessica Fuhl, the accomplished chair of the meeting, will do a proper analysis of the discussion, but I would like to pick out a few soundbites, which made me laugh or cry.
Dr Stephen Dunn, director of policy and strategy for NHS Midlands and East, summed up the discussion well: "It's about time we moved on from talking about improving the patient experience to doing something about it!" He declared, painting a wry picture of what happens at a high level. "We also hear patient stories at our board. There is not a dry eye in the house. And then the questions start. What's the picture across the region? What are we doing about it? How do we ensure that we hear and respond? Our non-execs get animated and our execs are equally passionate back in response."
See on www.guardian.co.uk