See on Scoop.it – healthcare technology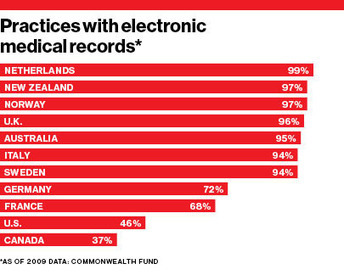 They improve care and cut costs. That's why Obama is spending billions on them. Yet electronic health records continue to cause more agony than relief in the U.S.
When the patient arrived, he started twitching uncontrollably. The elderly gentleman had been brought by worried family members to see a specialist at the Kaiser Permanente Santa Clara Medical Center in California late last year. The doctor there thought the man might be having an epileptic seizure—only he soon stopped twitching and, a minute later, seemed fine. Unsure of what to do next, the outpatient doctor called James Lin, chief of the hospital's emergency department. Should he send the man to neurology, as he would an epileptic patient, or to emergency?
Lin, a fast-talking 38-year-old with brush-cut hair and freckles, had his colleague wait while he looked up the patient's records on the hospital's electronic health record (EHR) system. In an instant, he saw that the man had a history of twitching episodes from which he recovered quickly; usually people suffering epileptic seizures tend to remain confused and disoriented afterward. "Send him over to me right away," Lin said. Minutes later, Lin put the patient on a cardiac monitor and confirmed that the man's brain wasn't the source of his medical issues. He watched as the patient's heart rate slowed. There was a long pause between beats, during which the man started twitching again. He was at risk of cardiac arrest. Lin transferred him to the intensive care unit, where he was outfitted with a pacemaker in a matter of hours. Lin says the man might have died if he had gone to the neurology clinic. The doctors there don't have cardiac monitors and might not have diagnosed his condition in time.
Outcomes like these, Lin says, are precisely what Kaiser's EHR system was designed for. Purchased from Epic Systems, a Verona (Wis.) company that's one of the pioneers of electronic health records in the U.S., it cost $4 billion and took five years to get up and running. The system, which links Kaiser's 37 hospitals, 15,857 physicians, and 9 million members, enables Lin and his fellow doctors to routinely save lives, he says. As he walks though his bustling emergency ward, weaving his way around patients in wheelchairs and on gurneys, he points out the PCs on wheeled platforms that doctors and nurses use to tap into the Epic databases. They look a bit like Segways without the ride-along platform. "We used to call them COWs, which was short for 'computers on wheels,' " Lin says. "But if we say we are going to push the COW in here, it doesn't sound so good. So now we call them WOWs. That means 'workstations on wheels.' "
When people in health care talk about the promise of digital medical records, they often point to Kaiser Permanente. The Epic system is integral to America's largest nonprofit health maintenance organization. The Oakland-based operation's doctors use it for everything from scheduling appointments to ordering lab results. Kaiser's members seem to like it, too. They can log into the system, check their medical records, and correspond with doctors via Epic's secure e-mail system. "I have patients who send me pictures of their Hawaii vacations," says Todd Dray, a Kaiser head and neck surgeon in Santa Clara. "I'm like, 'That's awesome. You know this is going into your electronic medical record?' "
source: http://www.businessweek.com/articles/2012-06-21/why-dont-more-hospitals-use-electronic-health-records
See on www.businessweek.com