See on Scoop.it – healthcare technology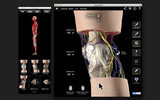 It used to be that the word "doctor" brought to mind an image of a kindly old man in a small office with a stethoscope, but now it conjures up an image of an app on a smartphone or a high-end digital device transmitting medical information over the Internet.
As digital innovations continue to cross over into the healthcare space, they are forever changing the way that we think about medicine, healthcare, and even the role that doctors have in curing us. "Digital health" has the ability to influence not only how we think about healthcare, but also to bring the exponential computing gains possible within the digital world into the world of slower-moving medicine.
See on bigthink.com