See on Scoop.it – healthcare technology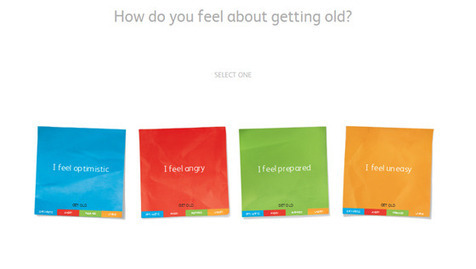 Pfizer has launched a major US social media campaign to kick-start a conversation about ageing and help it learn more about how Americans of all ages are tackling the issue.
The pharma company's long-term Get Old initiative includes Facebook and Twitter presences, which will run alongside a bespoke online community.
This community offers users information tailored to how they feel about getting older – optimistic, angry, prepared or uneasy. With echoes of the question Twitter originally asked its users (What are you doing?), Pfizer's Get Old site has "a simple, but profound question" – How do you feel about getting old?
The site will also allow users to share and view stories, photos and videos about getting old, and even vote on how they feel about ageing.
The company hopes that knowing more about how people cope with ageing, whether themselves, for their families or in society in general, will give it a better steer on how to respond to the issue.
source: http://www.pmlive.com/digital_intelligence_blog/archive/2012/jun_2012/pfizer_us_social_media_campaign_ageing_get_old
See on www.pmlive.com