See on Scoop.it – healthcare technology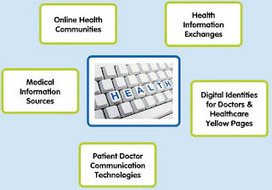 The end customer in the business of Medicine needs information. Everyday technology adds new ways in which we store and share this information for many to use, reuse, improve and share some more.
In this day and age of the Internet, Mobile Phones and Social Media; Patients are empowered with the possibility of Real Time Communication, 24/7 Access to Information and Live Community Feedback.
Today's patients have been exposed to numerous possibilities besides the ones which our forefathers would know of. This exposure has empowered this generation of patients to ask for better care, better facilities, cheaper alternatives, and more useful ways of using technology to provide healthcare as well as healthcare information.
However, in spite of large amounts of information available today, a big problem that exists today is that the information is not necessarily usable when it is most needed.
To effectively facilitate Information Therapy, Information Technology must bring about a marriage of ideas with utility; IT has to ensure all actors in this ecosystem come together to improve information management for the benefit of the patient, the staff and decision-makers throughout the healthcare sector.
See on technology4doctors.blogspot.in