See on Scoop.it – healthcare technology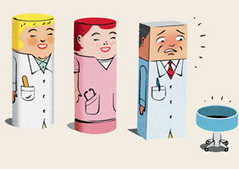 The physicians, nurses and clerical support staffers in medical offices say the frenetic work pace and high patient volume are making it harder to provide top-notch care.
More than 70% feel rushed when taking care of patients, and 52% say there are too many patients for the number of doctors and other health professionals in the office. Forty-one percent believe their office "has too many patients to be able to handle everything effectively," said an Agency for Healthcare Research and Quality survey of 23,679 people working in 934 U.S. medical offices that was released in June.
Physician leaders, practicing doctors, and experts on quality improvement and practice management said the survey results illustrate how the pressure to see more patients in less time amid declining physician payment is placing great strain on the professionals charged with delivering timely, effective and safe care. Those practice realities can translate into problems such as medication errors, missed test results and unnecessary trips to the emergency department, experts said.
"In many practice situations, the pace just does feel too fast," said David Shute, MD, medical director of GreenField Health, an eight-physician primary care clinic in Portland, Ore. "It's well understood that when humans are given too many tasks to focus on at once and there is too much time pressure, the error rates go up. This survey highlights a big problem."
source: http://www.ama-assn.org/amednews/2012/06/18/prl20618.htm
See on www.ama-assn.org