See on Scoop.it – healthcare technology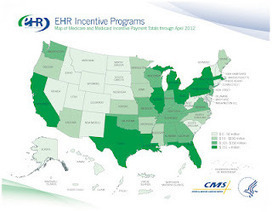 As part of the American Recovery and Reinvestment Act (ARRA) of 2009, the Health Information Technology for Economic and Clinical Health (HITECH) Act was created to fund and support a paperless national health information network through the adoption of electronic health records (EHRs).
Congress appropriated over $30 billion dollars for doctors and hospitals to receive if they install EHR systems that meet minimum standards. Doctors qualifying for the meaningful use incentives in stages over five years can earn up to $44,000 per physician. Hospitals' incentive vary but start with a $2 million base payment. The map shows payments made through April 2012.
This is a huge infusion of money into the hardware and software sector that serves doctors and hospitals, amounting to about a 50% expansion of the entire national installed base of these computer systems. The result has been a windfall for those few big firms that dominate the business, like Cerner and Epic. They promise a lot and are getting paid a lot and are recruiting a lot of software engineers and the like.
The talk in the industry is that these firms are getting over-extended because of the size of the contracts and the need to quickly recruit, train, and assimilate staff. I do not have a way to judge that, but I do notice that there is already a parallel growing industry of firms like Arcadia Solutions that, among other things, are brought in after the big guys come through and help the systems actually deliver the promised benefits.
See on runningahospital.blogspot.fr