See on Scoop.it – healthcare technology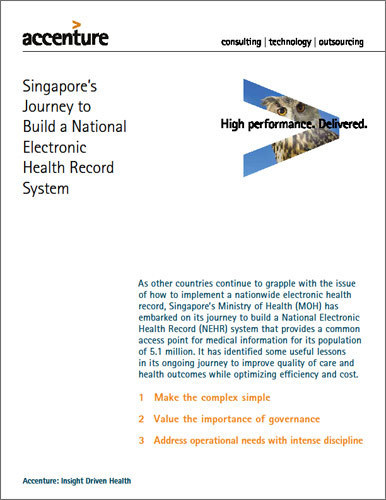 MOH Holdings has embarked on its journey to build a National EHR system. What can others learn from Singapore's experience?
To improve healthcare quality for all residents, increase patient safety, lower healthcare costs and develop more effective health policies, Singapore's Ministry of Health (MOH) created the National Electronic Health Record (NEHR) vision—"One Singaporean, One Health Record"—which enables patient health records to be shared across the nation's healthcare ecosystem. In 2009, MOH Holdings (MOHH), the holding company of the nation's public health assets, initiated the project to develop the NEHR system.
As other countries continue to grapple with the issue of how to implement a nationwide EHR, MOHH has embarked on its journey to build its NEHR system to provide a common access point for medical information for its population of 5.1 million. Additonally, the healthcare ecosystem in Singapore has more than 36,000 healthcare providers across the public and private sectors. Private practitioners provide 80 percent of the primary healthcare services, and the government polyclinics provide the balance. The ratio changes for more costly hospital care, with the government providing 80 percent through eight public hospitals.
MOHH initially engaged Accenture to develop an architecture blueprint for the NEHR system which detailed the business, information, application and technology architectures. In 2011, Accenture and MOHH began deploying the NEHR to provide clinicians with a summary care record for each patient including problem lists, medications, discharge and event summaries.
MOHH has identified some useful lessons in its ongoing journey to improve quality of care and health outcomes while optimizing efficiency and cost.
See on www.accenture.com