See on Scoop.it – healthcare technology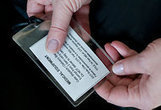 Apps can now deliver information like blood glucose levels, the location of a stent or the name of the nearest specialty hospital.
Travelers with chronic ailments like diabetes or high blood pressure have long struggled to remember when to take their pills as they cross time zones. Or they may have had a hard time finding emergency care in a foreign country or communicating about complicated health conditions.
But there are now a rapidly growing number of mobile health and medical apps that aim to deal with those types of situations.
Travelers can tap into technology before the trip begins, by storing information that can help ensure the right care is delivered if health issues crop up. Some put their medical history, latest EKG, chest X-ray or list of allergies and medications on a flash drive marked with a red cross, and attach it to a necklace, bracelet or keychain. Those who have had cardiac or other surgery may create a simple image using the free app drawMD for iPad devices that shows the exact location of a stent, for example, or an implant or bypass. For travelers who prefer a traditional method of communicating, a laminated card lists important information and physician contacts.
See on www.nytimes.com