See on Scoop.it – healthcare technology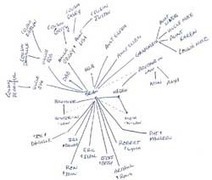 Have you ever thought about your social network prior to 2004—back when friends were friends and followers was just a word signifying an order to things? Think about whom you interacted with, whom you knew well, whom you shared with. You might want to sketch out this network. I've drawn one version of my social network below­—these are my "in real life" friends and family, the folks I spend my holidays with. I have cut it off at about 50 "connections" to simplify it, but hopefully you get the picture.
For comparison, see the multicolor social graph depicting the folks to whom I am connected through LinkedIn. With more than 1,000 connections this social graph appears to be a pretty densely connected network of professionals.
Article at : http://meetingsnet.com/medicalmeetings/cme_rules_regs/providers/deconstructing-your-social-network-606/index.html
See on meetingsnet.com