See on Scoop.it – healthcare technology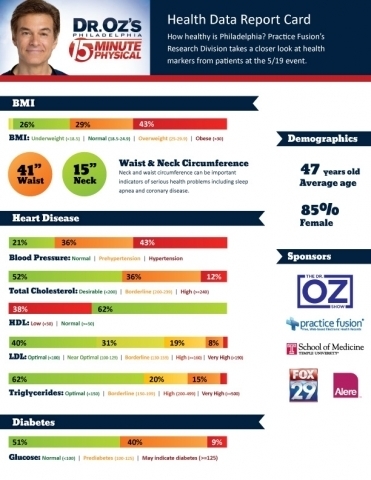 At a taping of the Dr. Oz Show on Saturday, Dr. Mehmet Oz and 75 laptop-wielding medical students entered clinical information on 1,000 patients into an electronic health record, courtesy of Practice Fusion, a provider of free web-based EHRs.
The location was Philadelphia's Temple University School of Medicine. Combing for indicators of heart disease and diabetes, they recorded in individual digital files, cholesterol and blood sugar levels (using Alere's diagnostic tools), as well as blood pressure, body mass index, waist size and neck circumference. It took 15 minutes, with clinicians giving participants a summary of their medical report. In real life, the government is pushing doctors to give patients access to their health data within three days.
Practice Fusion collected the data in real time for the one-hour show, allowing Dr. Oz to hand over a "Health Data Report Card" for Philadelphia to the city's mayor Michael Nutter. "The electronic medical record saves time when done right, so doctors can spend more time with their patients," says Dr. Oz, a cardiac surgeon who still operates on patients once a week at New York-Presbyterian Hospital.
The ability to perform key tests on a 1,000 individuals in such a short period of time underscored the impact an EHR combined with data analytics can have on public health. Dr. Oz was able to give policy makers "ammo," as he says, to confront health issues and the negative consequences they can have on a city. That could include raising awareness about health at companies, to putting more bike lanes.
See on www.forbes.com