See on Scoop.it – healthcare technology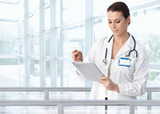 Physician use of tablet computers has nearly doubled since 2011, according to a new report by Manhattan Research, Becker's Hospital Review reports (Roney, Becker's Hospital Review, 5/14).
For its annual "Taking the Pulse" report, Manhattan Research interviewed 3,015 physicians across more than 25 specialties during the first quarter of 2012 (Dolan, MobiHealthNews, 5/14).
Use of Tablets, Mobile Devices
The report found that about 62% of surveyed physicians were using tablets in 2012, compared with 35% in Manhattan Research's 2011 report.
Of the surveyed physicians who use tablets, the report found that 81% said they use Apple's iPad (Horowitz, eWeek, 5/11). About 50% of the surveyed physicians who use tablets said they have used their device at the point of care.
The report also found that physicians who use smartphones, tablets and computers tend to spend more time on the Internet than those who have fewer devices (Becker's Hospital Review, 5/14).
According to the report, physicians often use mobile devices to read medical news, research symptoms, prescribe medication and access medication reference databases.
Monique Levy, vice president of research at Manhattan Research, said doctors are less likely to use mobile devices to access electronic health records and laboratory results.
See on www.ihealthbeat.org