See on Scoop.it – healthcare technology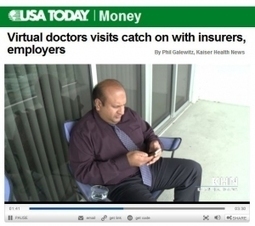 "Virtual" Consulting
It's unsurprising that people who have never done a remote video consultation with a Doctor refer to it as a "virtual" experience. But there is NOTHING virtual about a registered Doctor consulting with you about your health over video especially if they have your full history.
Arguing it is 'virtual' is to my mind like claiming I virtually flew to the Middle East last last week because I arranged it all online.
"Morning! morning Doctor how are you today? Good, can you tell me your name please?"
These opening lines of the video suggest to me this Doctor has very little experience of effective remote consulting.
I'm quite confident of this as in 6 years of offering 3G Doctor we've never had to ask a patient to tell us their name. Why? Because it's not an effective way to ensure the identity of your patient (you should at least be referring to a stored facial image in their EMR), there are better ways (like discussing the details in the history they've shared before the consultation), it's a waste of time that's akin to the lack of purpose and pointlessness you pick up from video call demos in which participants wave to one another due to their discomfort and lack of focus.
"Telemedicine is a fairly new medium"
Really? Ever consider the work of the Royal Flying Doctors? Ever wonder how the Navy, oil rig workers or Astronauts access care?
"I don't think it will replace traditional medicine. It will just be an adjunct for patients who have simple issues or who are between Doctors or need a refill"
See on mhealthinsight.com