See on Scoop.it – healthcare technology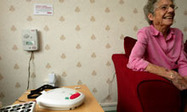 Europe is known the world over for its universal public healthcare systems. But these systemsare at risk of becoming financially unviable and suffering from a lack of human resources to deliver the required care.
In the face of demographic change and financial austerity, we must rethink the way we deliver, organise and finance healthcare. Fundamental reform of our systems are needed, enabled by information and communication technologies (ICTs).
I do not mean big projects like the National Programme for IT, which have come to dominate the perception of ICT in healthcare. I mean new approaches for telemonitoring, electronic prescriptions, and applications that help prevent people from needing acute care and allow the elderly to live independently in their homes.
Many of these have been tested in the UK under the Whole Systems Demonstrator project and have demonstrated huge benefits for patients, medical specialists, and care workers and have considerably reduced health care costs and boosted productivity.
Why? Because this is not actually about the technology. I would love to make healthcare less intrusive and more personalised, as well as more affordable.
The way to do that is to design care around patients, and the means of achieving that is better integrating digital technology into caring processes. That is worth fighting for, even if there are stumbles along the way.
At the centre of this vision is the power of data. By unlocking and liberating this data we can truly revolutionise health.
See on www.guardian.co.uk