See on Scoop.it – healthcare technology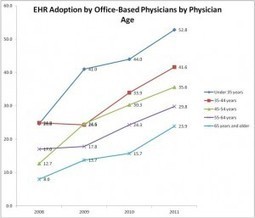 As spring quickly blends into summer, we at the Office of the National Coordinator for Health Information Technology (ONC) continue to see signs that providers and hospitals nationwide understand why electronic health record (EHR) adoption and achieving meaningful use is critical to improving patient care.
The number of providers and hospitals trading in their old fashioned paper records for EHRs and taking advantage of the assistance provided by the Medicare and Medicaid EHR Incentive Programs continues to climb each month with hundreds of thousands of additional providers registered and in queue to participate in the EHR Incentive Programs and get paid.
Preliminary data show that during the month of April alone, more than 17,000 eligible professionals and 280 eligible hospitals received payments under the EHR Incentive Programs. Since the EHR Incentive Programs started a little over a year ago, a total of approximately 90,000 eligible professionals and 2,250 hospitals—which is 42 percent of all eligible hospitals—have successfully participated in the program!
This success is attributable to the hard work of providers across the country who are diligently using the Stage 1 meaningful use criteria as a roadmap for improving patient care.
See on www.healthit.gov