See on Scoop.it – healthcare technology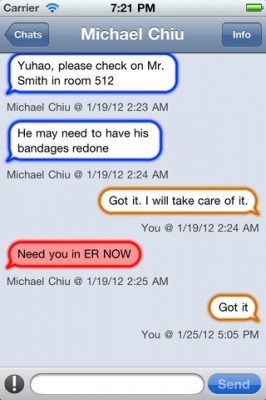 A new initiative currently being trialed aims to enhance and improve communication between healthcare professionals. Medigram is an app of sorts whose aim is to provide HIPAA compliant secure text messaging between healthcare professionals.
Currently, the primary method of contacting a physician is via a pager which is generally only one way communication.
Furthermore, there are often issues such as trying to find a phone which means that the current system is relatively inefficient.
Having recognized this, the team at Medigram have designed a mobile app which they hope will revolutionize communication.
The free app brings HIPAA compliant group text messaging between doctors who are signed up to the service. Medigram is currently in closed beta with physicians at Stanford Hospital, Lucille Packard Children's Hospital and the Palo Alto VA Hospital.
See on www.imedicalapps.com