Via Scoop.it – healthcare technology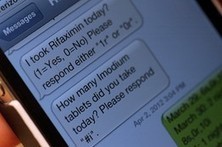 An online network for sufferers of inflammatory bowel disease suggests a new way of treating chronic disease, letting patients collaborate with doctors in collecting data and suggesting ideas for treating their condition.
A few years ago, a far-flung group of pediatric gastroenterologists set up an online network where they could share data and treatment strategies for children and adolescents with inflammatory bowel disease, in hopes of improving outcomes. It worked—up to a point. The remission rate jumped to 75% from 50% at some of the centers, but then hit a ceiling.
Some of the doctors raised a provocative question: Could they get even better results by bringing patients and parents into the effort?
Patients would experiment with new treatments and closely monitor how the regimens affected them day to day, then feed the data into the online network through computers or smartphones for doctors to examine. The patients could also use the network for things like social support, finding other patients who shared similar interests or lived near them.