Via Scoop.it – healthcare technology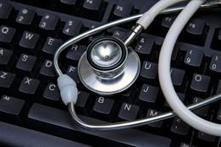 (Medical Xpress) — It's a brave new world online. As the influence of social media widens, the lines between users' personal and professional lives are blurring. Doctors are no exception.
Nearly 90 percent of physicians use a social media website for personal use, and 67 percent use social media professionally. A study published in the Journal of the American Medical Association (JAMA) found that 92 percent of state medical boards in the United States have received reports of violations.
"Physicians need to understand the guidelines for what constitutes professional behavior online," said Robert Wachter, MD, professor and chief of the Division of Hospital Medicine at UCSF and author of the popular health care blog Wachter's World. "In nearly every situation, especially on the Internet, they should be wearing their doctor's hat."