Via Scoop.it – healthcare technology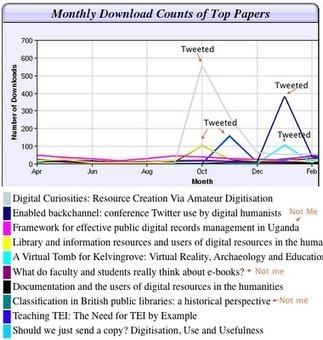 Some rough stats, first of all. Most of my papers, before I blogged and tweeted them, had one to two downloads, even if they had been in the repository for months (or years, in some cases).
Upon blogging and tweeting, within 24 hours, there were on average seventy downloads of my papers. Seventy. Now, this might not be internet meme status, but that's a huge leap in interest. Most of the downloads followed the trajectory I described with the downloads to Digital Curiosities, in that there would be a peak of interest, then a long tail after. I believe that the first spike of interest from people clicking the link that flies by them on twitter (which was sometimes retweeted) is then replaced by a gradual trickle of visitors from postings on other blogs, and the fact that the very blog posts about the papers make them more findable when the subject is googled.
People read the blog posts – I have about 2000 visitors here a month, 70% new, with an average time on the site of 1 minute and 5 seconds. You come here and tend to read what I have written (thanks!) and seem to be clicking and downloading my research papers.
Via melissaterras.blogspot.com.au